Veterinarian Kim van Brakel
Since I was a child I wanted to become a veterinarian. While trying my luck with the Dutch numerus fixus system for Veterinary medicine, I first completed a study of Dutch language and literature in Leiden. As luck still hadn't gone my way in the numerus fixus system, I left for Belgium to realize my dream and start studying Veterinary medicine. In 2009 I graduated from Ghent University as a veterinarian.
After graduating I lived in Rotterdam for a while. But I have been living in The Hague now for quite some time, the city where I was born and raised. I do not live alone: ​​I am married to Ewoud and together we have two daughters. Our dog Flo, our cats Pepe, Hidde and Mimooi, and our four rabbits complete the family. Flo can also be found regularly at the practice, where she now feels completely at home.
After graduating, I gained experience at several clinics, not only in the Netherlands, but also in Spain. I enjoyed my work at these clinics very much, but the dream of my own practice became stronger and stronger and I didn't have to think long when the opportunity arose to take over this practice.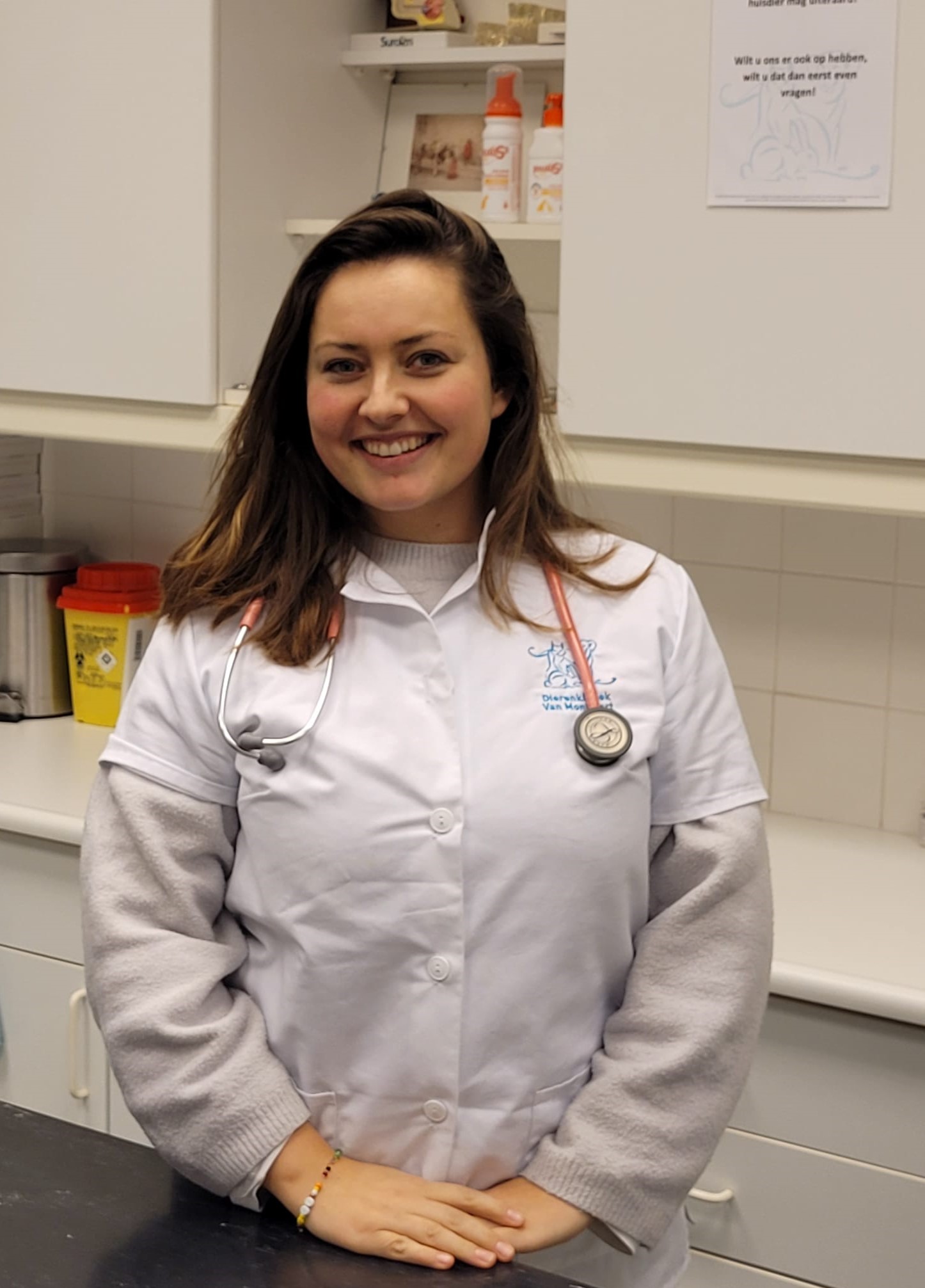 Veterinarian Felicity Barnett
Ever since I was a little girl I always had a great affinity for animals. I grew up abroad, where my mother often helped animals in need. We also had four cats at home. I was always involved with animals myself, from building a snail hotel to helping toads cross the road, no animal was too crazy to help. After finishing high school I took a Gap year and did volunteer work with orangutans in Malaysia. This was such a special experience and after that I knew it for sure, I really wanted to become a vet!
I completed my degree in Veterinary medicine at the University of Ghent in 2013. After that I worked in a clinic in The Hague for a number of years, but life abroad had always attracted me. Over the years I have traveled a lot and was lucky to live in Singapore and Mexico.
In the summer of 2022 we arrived back in the Netherlands permanently with our three daughters and two dogs.
Since September 2022 I have joined the team at Dierenkliniek Van Montfoort. There is a lot of variety in the workplace: we start our days doing surgeries and finish with consultations. I really enjoy all different fields in veterinary medicine and the variety is what makes it so much fun. Not one day or animal is the same!
I look forward to receiving you and your pet here in the consulting room!
Assistant Saskia Schrofer-Adolfs
I am Saskia Schrofer, born and raised in The Hague and I have been crazy about animals since I was little. When I applied for a job with the police after high school, the advice was to continue studying first and to apply again when I was a little older. However, it never came to that…
After an admissions interview at MBO Maasland, I started the Animal Care/Assistant course. During this course I regularly had to do internships and that is how I ended up at the Dierenambulance Den Haag. After my internship I worked there as an animal caretaker and driver. There I also met my current husband and soon we lived together with an entire zoo from the animal ambulance. We have now been together for almost 25 years and have been married for 15 years, we have two beautiful children (a son and a daughter), a guinea pig, a parakeet and a Belgian Malinois called Silas.
At the animal ambulance I often assisted the vet and he asked me if I wanted to work with a colleague in a veterinary practice. Ever since I have been working in this clinic for almost 25 years. Firstly with veterinary doctor De Vrij and since 2012 with doctor Van Brakel.
I still go to work with a big smile on my face every day!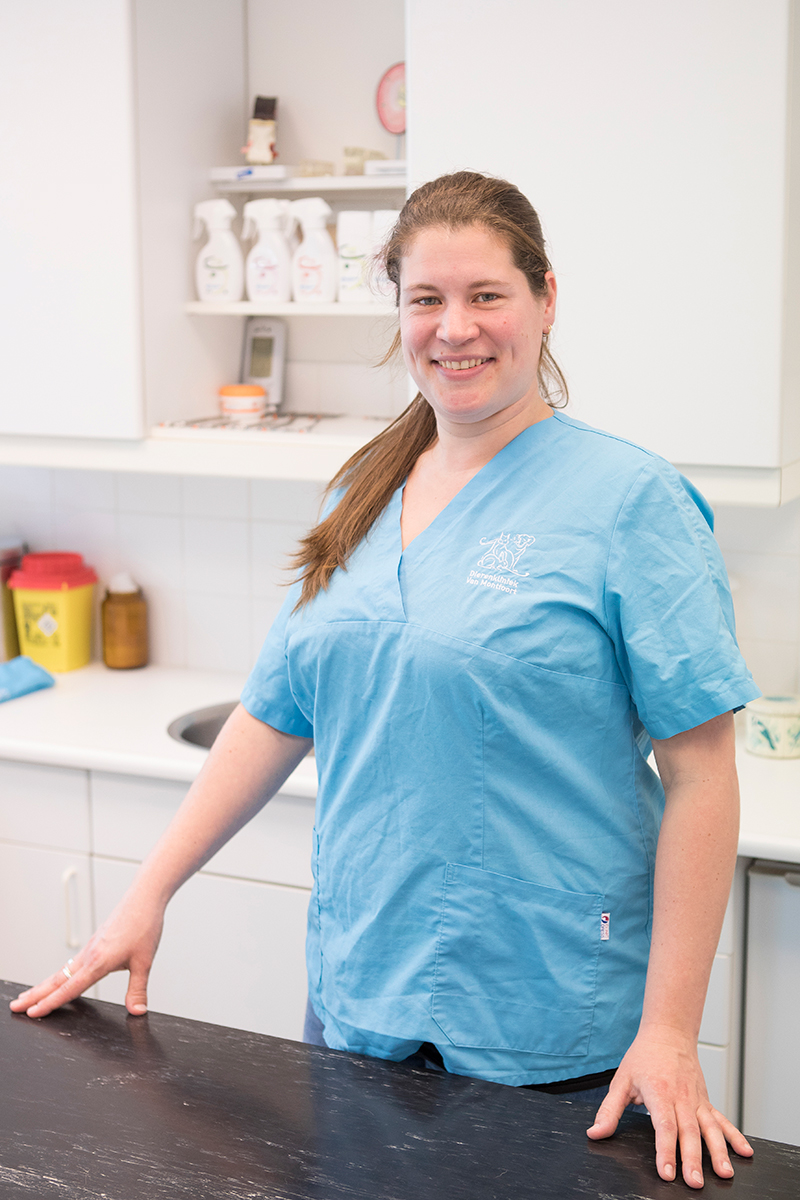 Vet nurse Joyce van der Valk - van Tent
I have loved animals from a young age and knew that I wanted to work with animals when I grew up.
After high school it was not difficult for me to choose my following education. I chose the animal care course in Maasland.
We have always had animals at home. When I started living together with my current husband, Patrick, a puppy soon came into the house. It was a Malinois named Skye.
Our family has grown even further over the years with the arrival of our two daughters. At 14 years old we unfortunately had to say farewell to Skye. Since then we have welcomed Border Collies Zia and Zeno into our family.
In 2007 I started as a veterinary assistant in this practice, which was then owned by veterinary doctor De Vrij. In 2012 the practice was taken over by veterinary doctor Kim van Brakel. Over the years I have been able to develop my veterinary skills further and have a keen interest in practice management. Because of the versatility this practice offers me, I still enjoy going to work after all these years.